At Catholic Social Services we provide help and create hope for over 3,100 people every day. Our network of programs offers support to those who need it most. Every day we help the homeless & hungry, at-risk youth, struggling families & single parents. We help immigrants, refugees, neglected children and those with intellectual disabilities.
We carry out our work to transform lives, envisioning a world touched by God's mercy, a world where every individual is valued, families are healthy and strong, communities are united, poverty and need are alleviated, and all people share justly in the blessings of God's creation.
Our work is guided and inspired by our Core Values:
Compassion: genuine care & heartfelt concern for those we serve
Dignity: respect for each person as created in God's image
Charity: generosity toward all in response to God's goodness
Justice: defense & advocacy for the rights of the poor and vulnerable
Excellence: professional competence & responsible stewardship
Dr. Brian Friedrich from the Communities of Don Guanella and Divine Providence explains the COVID 19 Vaccine
What our volunteers say
"I give my time on the CSS Board because I believe in and support its mission, and am proud how the lives of children are improved because of the services we provide to them and their families."

Denise D. Hodgson member of Catholic Social Services Board
Recent News from Catholic Social Services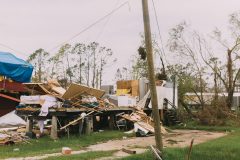 Broad Street lends a helping hand to the bayou, as Catholic Social Services and Nutritional Development Services ship desperately needed food and clothing to the first state ravaged by the category 4 hurricane last month.
Join us on Facebook
Need Help?
If you are in need of help or assistance, CALL our CSS Helpline at (267) 331-2490 (Mon-Fri 8:30am – 4:30pm) or by clicking on the link below. We are here to help you and will provide you with the information and assistance you need to find the comfort and security you deserve.