Affordable, Independent Senior Living in Delaware County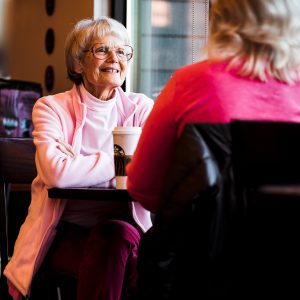 When construction is complete on St. Joseph Place, an affordable, independent senior living facility in Collingdale, a glass atrium will connect two separate buildings that were once the center of the Catholic community in this Delaware County town: the former elementary school of St. Joseph's parish and the nearby parish annex.
Community can't exist without connection. Connection between generations, between the past and the present, and between a neighborhood and its residents. When completed, the construction and renovation will do more than connect two structures. It will connect a beloved old school building with a re-imagined future.
St. Joseph Place Apartments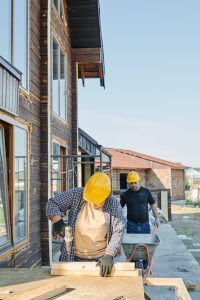 St. Joseph Place will consist of 50 one-bedroom apartments for income eligible seniors aged 62 and older. Features of the building will include a community room, food cupboard, laundry facilities, resident lounges, and on-site social services to assist residents with various needs as they age in place within their community.
Both the school and the annex are listed on the National Register of Historic Places. Their placement on the register defines and limits the structure and appearance of the buildings. To design and build the new apartments within these limits requires considerable experience, knowledge, and know-how.
Providing this expertise and partnering with CHCS are Kramer+Marks, Architects, from Ambler, and Domus Construction, located in Glenside. St. Joseph Place is the first senior housing community developed by CHCS outside the city of Philadelphia. Other communities include St. Francis Villa, St. Neumann Place, Nativity B.V.M. Place, Casa Carmen Aponte, St. Rita Place, and St. John Neumann Place II.
A Bright Future for an Old Building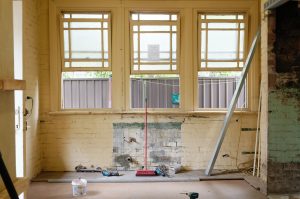 Although both buildings are historic, they hail from different eras. Ground was broken for the historic former Saint Joseph school was in 1916. The annex buildings were added to the property in the mid 1950's. Their original design of each building express vastly different aesthetics, posing a challenge when unifying the two.
The disparate design elements of the two buildings to be joined makes choosing a palette for interior paint, carpet and other décor no easy task. To please the eye, the interiors must bridge the gap between a school building from the 1920's and an annex built in the 1950s.
Heather Huot, Director of Catholic Housing and Community Services (CHCS) sees the project as both a challenge and a gift. "The construction will meet historical standards while providing a safe, comfortable, and affordable apartments for seniors." Huot has taken the lead on this project.
She has been working closely with both Kramer+Mark and Domus to bring the project to completion. She, and the rest of the staff at CHCS, look forward to opening day at St. Joseph Place. "When you open a building and give the keys to people for the first time, there's really nothing like it."
Philadelphia Auxiliary Bishop John McIntyre, who oversees archdiocesan Catholic Human Services presided over the groundbreaking ceremony for St. Joseph Place on September 17, 2021. He called the endeavor, "a testament to the church's commitment to our beloved seniors within this community."
A combination of tax credits, grants and funding from home loan banks and local lenders supplied the funds for the $18.8 million facility The Pennsylvania Housing Finance Agency provided a tax credit allocation of $12.5 million. The US Department of Housing and Urban Development awarded the project $750,000. Additional funding came from the County of Delaware, the Federal Home Loan Bank of Pittsburgh, TD Bank, Raymond James and a private investment.
Creative Solutions for an Aging Population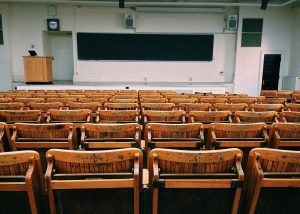 The creation of St. Joseph Place is a creative solution for two distinct problems facing many parishes in and around Philadelphia: empty buildings and an aging population.
Demographics shift over the years, and sadly, schools sometimes close. A shuttered school building is a burden on parish collections. Unused and empty, former schools become a target for vandals. Simply maintaining the buildings and protecting them from the ravages of time becomes a very expensive proposition.
The second problem is the aging population. Children, (some who may have attended parish schools) grow up. And then grow old. The census bureau estimates that by 2060, nearly one in four Americans will be at least 65 years old. (link)
Ideally, these older adults will have a comfortable, affordable place to live, in the community where they raised their children and formed friendships. Unfortunately, not all seniors will have the retirement savings or pension income needed to sustain them in single family homes.
Living at St. Joseph Place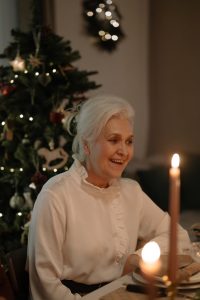 Seniors hoping to become residents of St. Joseph Place will have an opportunity to attend Senior Center information days, a few months before the building is complete. The information sessions will explain the application process, which includes a background check and a credit history check.
Human Good, an non-profit organization providing products and services in the management of affordable housing, will manage the application process. Then, when St. Joseph Place is occupied, they will assume the role of on-site building managers. CHCS will own the building and provide social workers who will assist residents who need to access services.
The problems faced by St. Joseph parish and area seniors are not unique. But the solution arrived at is both unique and inspired. CHCS has seized an opportunity to unify two buildings, and reclaim the former elementary school for the community. Huot says, "When a parish school closes, it is devastating for a community. This is a way for the church to maintain its presence in the community".