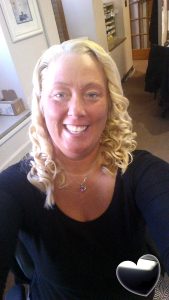 Catholic Social Services is on the frontlines of the foster care world.  The Pennsylvania Department of Human Services estimates that there are 4,300 children in Pennsylvania who are in need of a safe, loving home.  Catholic Social Services works with hundreds of foster parents to provide foster care services for children in need.  Tabitha Seehousen, a Foster Care Social Worker with Catholic Social Services, was recently interviewed by Loraine Ballard for WDAS-FM. She shared with the WDAS audience her insights on the foster care world in Philadelphia and the foster care program run by Catholic Social Services of the Archdiocese of Philadelphia.
Listen to Tabitha's interview this Sunday morning on WDAS-FM.
Ms. Seehousen notes that, "Catholic Social Services exists to transform lives and bring about a just and compassionate society where every individual is valued; families are healthy and strong and communities are united in their commitment to the good of all." She went on to add, "We envision a world touched by God's mercy: Where poverty and needs are alleviated, and that all people share justly in the blessings of creation."
Catholic Social Services provides foster care and kinship care services to children, from birth to twenty-one years of age. The children in foster care need temporary, substitute care due to crisis or some chronic condition.  Children can end up in the foster care system for a number of reasons including parental substance abuse, child abuse by a family member or friend, parents or caregivers lack of housing and even mental health issues
"The goal of the program is to achieve permanency for children," she explained.  The aim of foster care is to minimize the time with a foster family and to find a permanent solution as quickly as possible.  This allows for the wellbeing and safety of the child while working to ensure that they do not return to foster care.
Ideally, the foster care program (also called substitute care) intends to reunite a child in foster care with their birth parents at the earliest possible time.  While in substitute care, Catholic Community Services (a Philadelphia Community Umbrella Organization or CUA) involves the birth family at all levels of care planning.
Children in the foster care system are ultimately seeking the goal of being reunited with their birth parents. But if this is not possible, and if a birth parent's rights are terminated, children go up for adoption.  A child would typically be in the foster system for 22 months before the goal would change from reunification to adoption.  At this point, foster parents can adopt their foster child(ren).  If the foster parent cannot adopt the child, Catholic Social Services will find an alternative for the child.
There is a desperate need for foster parents, especially for parents willing to foster teenage children.  Many parents are more open to becoming a foster parent for infants or younger children but fewer are open to fostering teenagers.  While fostering a teenager has a unique set of challenges, it is no less rewarding.
To qualify as a foster parent, an individual must have a stable residence with appropriate furnishings.  Foster parents need to be healthy enough to care for their foster children.  Qualified foster parents will pass appropriate background checks, complete a home study and be able to appropriately support the children placed in their care.
For more information about becoming a foster parent, visit Catholic Social Services' Foster Care and Adoption page by clicking here.