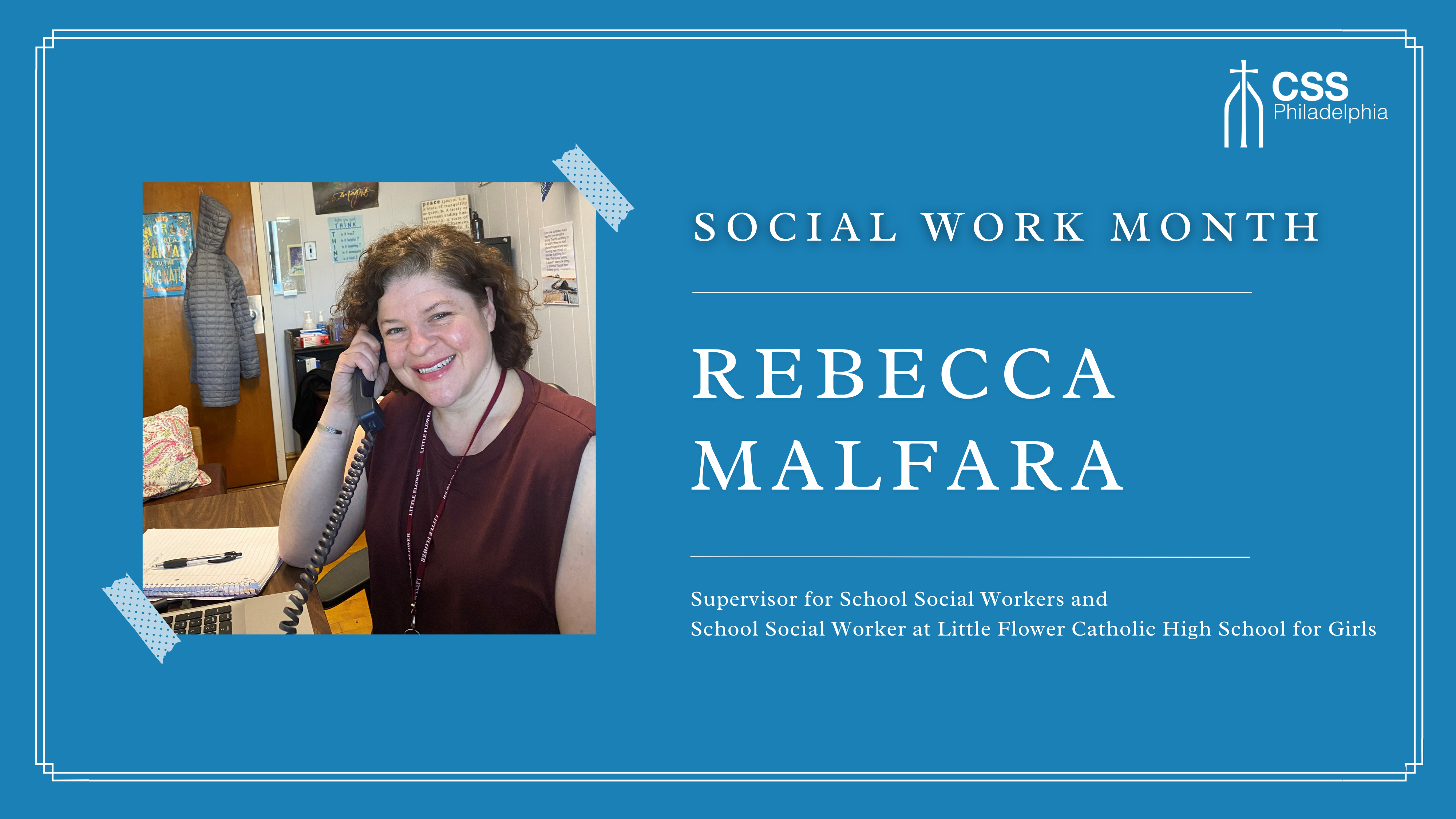 School social workers make a difference every day of the school year. From helping students navigate the difficult high school social landscape to providing families with needed services, these heroes are vitally important.  Catholic Social Services provides social workers for area Catholic high schools.  We are proud to feature these amazing individuals.  Take a moment and get to know them!
What is your name, job title, and social work degree?
My name is Rebecca Malfara and I am the Supervisor for School Social Workers and also a School Social Worker at Little Flower Catholic High School for Girls. The school social workers are employed through Catholic Social Services and are placed at Little Flower High School, Archbishop Bonner/Prendergast High School, West Catholic, Father Judge and Neumann-Goretti High School. I have a Bachelor's degree in Social Work from Temple University and a Master's of Social Work from the University of Vermont.
How would you describe your current role with Catholic Social Services?
I am currently the School Social Worker at Little Flower High School. The primary role of the school social worker is to serve as a liaison between home, school, and the community, to support students and families and link to community resources as needed to assist in achieving student success.
My office is in the Guidance Office and I work closely with guidance staff, faculty, and administration to provide support to students. I provide crisis intervention, support students with mental health challenges, address students with excessive absences or lateness, meet with students regarding peer or relationship issues, grief counseling, and work with students and families to address any barriers to success. The school social workers work independently in their schools and as supervisor I help support them in any clinical or administrative issues. The school social workers also meet regularly to support each other through professional collaboration.
What does a day in your position look like?
My days are never the same and are never boring. I love my job at Little Flower. I try to roughly plan my day but depending on the needs of the students, the plan rarely works. For example, yesterday I made a list of students I wanted to follow up with but still have not seen them yet. I started my day meeting with a student in crisis before moderating Anime Club. I may not have any knowledge of Anime but it is inspiring to see these young women take on leadership roles and connect with each other over similar interests.
The club is also planning for International Café, a beloved tradition at Little Flower. After the club, I made several phone calls to parents, connected with several students who are having a difficult time, and collaborated with guidance staff. I will also refer students to services, speak to administrators regarding several students and will communicate with outside agencies and hopefully get to the students that are on my list before the end of the day! I like to be involved with the students and try to attend assemblies and activities that are going on at school."
What inspired you to become a social worker?
"Throughout high school, I was involved in many clubs and activities that promoted advocacy and justice. I also made some poor decisions in high school that landed me in the Shalom Office and the Guidance Office. I spent many days in Mr. Fitz's office and his never-ending patience sparked my interest in the helping profession but I never anticipated working as a school social worker. Many of my extracurricular activities in college included activist work and when I changed my major to Social Work, the values of Social Work such as service to others, social